🎄 Advent Calendar 2023: Celebrate the countdown to Christmas with our special Advent Calendar! Each day reveals a new test automation tip. Check it out
here
and uncover a daily dose of wisdom! 🌟
Agile Testing
Agile Testing
In order to stay competitive, it has become essential to deliver software fast with the best customer experience. Due to the iterative process, functionalities will be added and changed frequently; thus, regression testing will increase exponentially. Then, it is no longer feasible or efficient to conduct a regression test manually. Tools can accelerate software testing.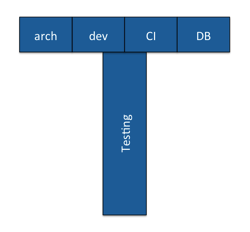 In an Agile process, a tester is no longer the only person responsible for testing, but the whole team has a shared responsibility for delivering quality. The tester has to keep up with other disciplines such as continuous integration, database maintenance, and software development. Test automation plays an increasingly important role, and automated test scripts should be implemented during short iterations.
Testsmith is specialized to test within an Agile iterative process. Look at test automation for an overview of the tools with which I have experience.
I have various Scrum.org certificates that prove I have the necessary knowledge to work in an Agile team.